Model
49X
Introducing what isn't just the best truck we've ever built, but what might be the best truck anyone has ever built.
Find a Dealer
Request a Quote
Break New Ground with the 49X
The entire X-Series line of trucks was built from the ground up to bring toughness into the modern age with an impressive collection of engineering, technology and more than half a century of experience building trucks that take on any challenge, anywhere. So, whether you need a rugged vocational truck or a semi truck, and whether you've owned Western Star for years or will for the first time, it's time to break new ground with the 49X.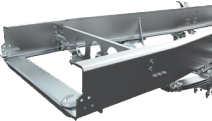 Chassis
Built For The Challenge
The heavy-duty vocational frame underneath the 49X is engineered to stand up to the demands of severe service applications.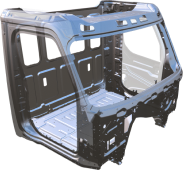 Cab
Making Legendary Performance Lighter And Safer
Constructed from a premium-grade aluminum and enhanced with steel reinforcements.
Powertrain
Powered By Proven Performance
Whether you're working on construction sites, in quarries, in logging, or even on the road, there's a Detroit engine option for your.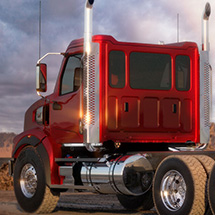 Upfit
Engineered For Upfit
The X-Series was created with Truck Equipment Manufacturers (TEMs) in mind. We designed the truck to ease body upfit for every type of truck including dump trucks, cement mixers, cranes, and engineered it with features to make it fast and simple to access wiring and add controls.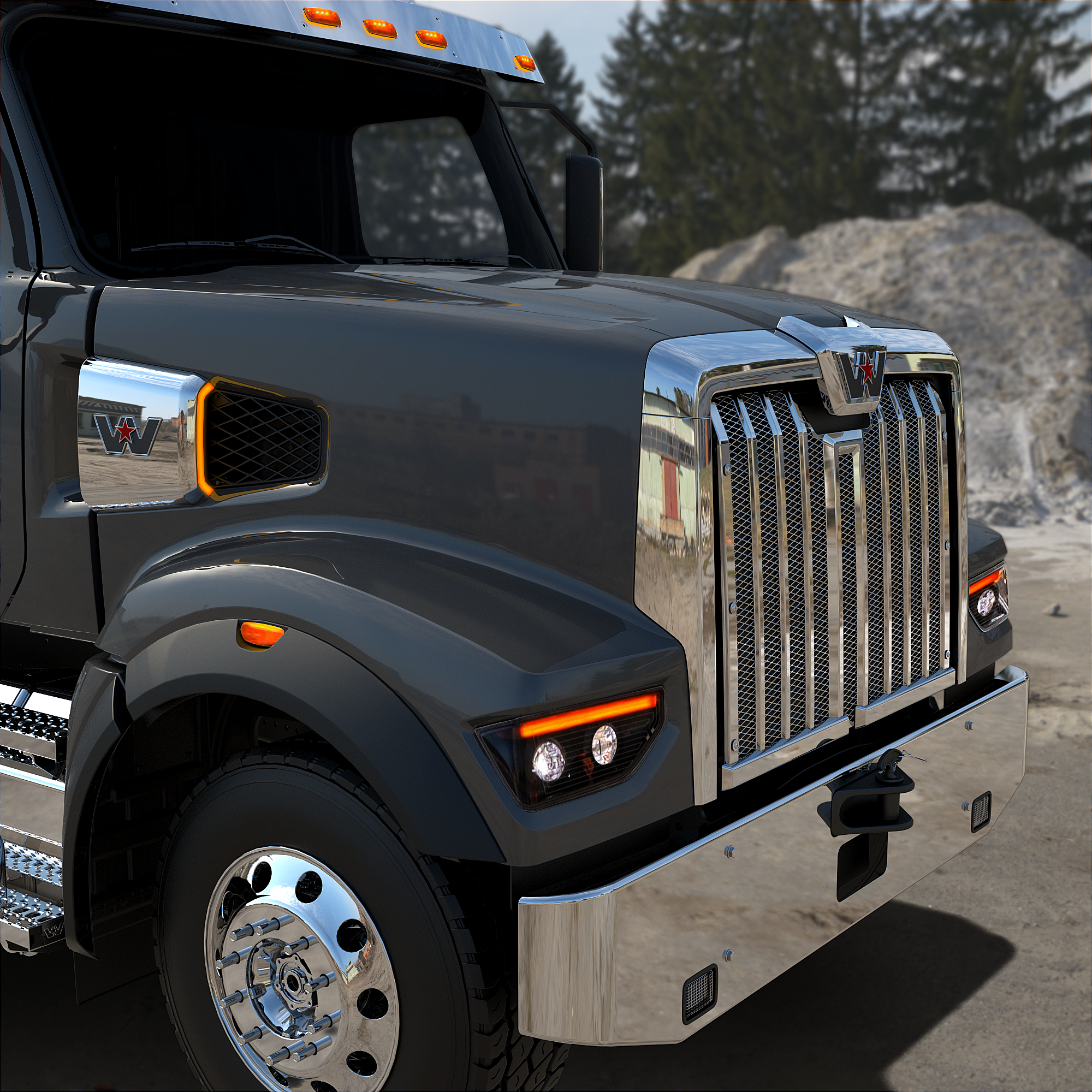 Power Hood
Where Legacy Meets Evolution
Power Hood combines the need of high power and the traditional hood style for the toughest and steepest terrain.
PLANETARY AXLE
Expanding Heavy Haul
Meritor P600 available in tandem or tridem configurations for heavy haul applications with GCWs of 200,000+ lbs.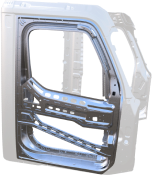 Doors
Forged Steel Door Hinges
Internally mounted protection from the elements. Greater durability to prevent sagging -- a common problem with piano hinges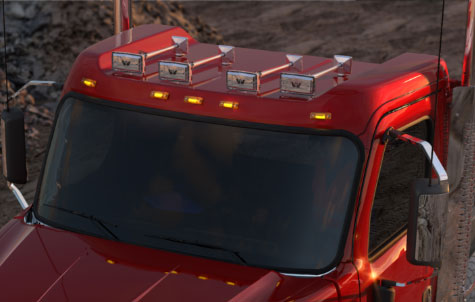 Roof
Trench-style Low Roof
Composite roof with a lowered center section enables optimized packaging of overcab equipment, giving you a purpose-built vehicle that minimizes overall vehicle height while maximizing interior headroom and door opening.
Uptime
Our Job Is To Keep You Doing Yours
Our X-Series trucks represent a big advancement in productivity for vocational trucks thanks to Detroit Connect®. Detroit Connect translates the performance data of any type of truck into real-time information you can use to make the decisions that can help you keep those trucks working and earning.
Take A Walkaround Without Even Standing Up.
Experience a 360-degree view of the 49X with the options and color of your choice. It's the closest you can get until you're standing next to a real one.
The safest and most advanced
truck we've ever built.
Detroit Assurance Suite of Safety Systems
Internally mounted protection from the elements. Greater durability to prevent sagging -- a common problem with piano hinges.
Introducing Detroit Assurance
Technology gets tough in the 49X, the first Western Star to feature the most advanced suite of active safety systems ever offered to the vocational market - Detroit Assurance. But it not only helps keep people safe, it helps you reduce the repair and operational costs of having a truck out of service by avoiding collisions - which can mean game-changing productivity to you.
Learn more about
Detroit Assurance
Active Brake Assist 5
Active Brake Assist 5 detects distance and speed to moving and stationary objects in its path and determines if warning or braking is necessary. It's the only system on the market that works down to 5 MPH*, making it ideal for travel in congested urban areas. It also recognizes pedestrians who are about to cross in the truck's path, alerting the operator while partially braking, followed by full braking if the operator does not react.

* with DT12 Transmission
Side Guard Assist
A game changer for safety in and around busy jobsites, Side Guard Assist detects objects on the passenger side of the truck and alerts the operator.
Adaptive Cruise Control To 0 MPH And Tailgate Warning
Detroit Assurance technology enables state-of-the-art features such as Adaptive Cruise Control to 0 MPH* and Tailgate Warning to ease driving in stop and go traffic, as well as help reduce collisions as operators travel from one jobsite to the next.

* with DT12 Transmission
Brake Hold Mode
Brake Hold Mode enhances driver safety and comfort on the road and at the jobsite. This state-of-the-art feature keeps a truck* stopped when the driver removes their foot from the brake pedal, or if their foot unintentionally slips off.

* with DT12 Transmission
A windshield that makes it easy to see everything, including an advantage in safety
Field of Vision

- Delivers best-in-class field of vision thanks to a surface area that's 28% larger than our previous product offering, making it one of the largest windshields in its class.

One-Piece Design

- Roped-in design for easy removal and replacement in case of damage.

Solar Film

- Optional solar film reduces heat in the cab, improving operator comfort.

Wider Wiper Zone

- 24-inch wiper blades that cross over the center of the glass for a 37% improved wiper zone, giving operators a wider range of visibility and better unobstructed view.
Dual Stage Intelligent LED Headlights
Impact Resistance

- High-impact polycarbonate lenses with additional hard coating protection to prevent cracking, scratching or damage to the headlight from road or jobsite debris.

Heated Lens

- Dual Stage intelligent heat grids to melt away ice and in humid environments, eliminate condensation, in minutes.

Integrated Amber DRL

- Integrated amber daytime running lights that double as turn signals, making the truck more visible to oncoming traffic and on the jobsite.

Wide Illumination

- LED output is designed to fully illuminate the road and jobsite, including off to the sides of the vehicle, to reduce eye fatigue while letting operators detect objects sooner.
Tough on the outside. Very
comfortable on the inside.
Daycab: door map pocket does not have a fabric insert
Sleeper: door map pocket insert color matches trim color
Not all seat combinations are shown
The 49X Dash
The dash of 49X is a study in forward-thinking engineering and design, with every decision made to let operators keep their hands on the wheel and eyes on the road.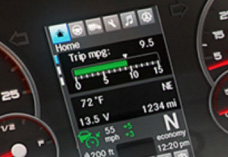 Driver Command Center
Features six gauges and a central LCD screen that provides important engine information and alerts from Detroit Assurance and Detroit Connect Virtual Technician®.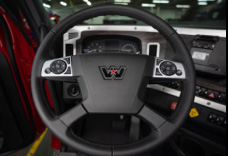 MULTI-FUNCTION STEERING WHEEL
Leather-wrapped steering wheel offers integrated controls for stereo, Driver Command Center interaction, cruise control and cruise interrupt, as well as a Bluetooth® connection for mobile phones.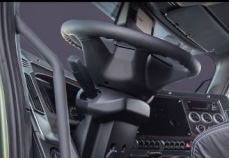 STEERING COLUMN
Fully adjustable to provide full range of motion for increased operator comfort.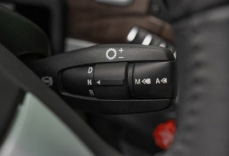 TRANSMISSION CONTROL STALK
Allows automated manual and automatic transmission shifting and engine braking functions from the column for safer operation.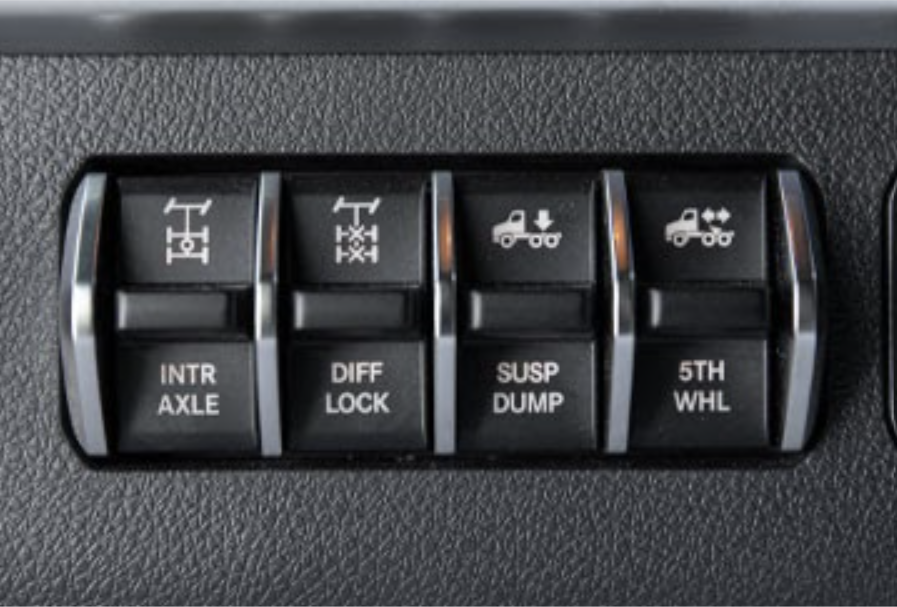 VOCATIONAL SWITCHES
The 49X features robust, programmable rocker style switches that are easy to read and use with back lighting, laser-etched graphics and guards to reduce unintentional actuation.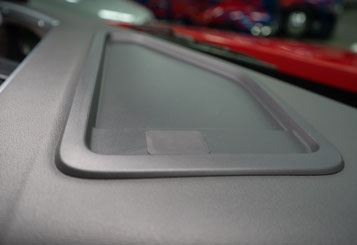 QuickFit Dash Access
Located on top of the dash near the windshield, the QuickFit Dash Access lets you easily route wires to power dash-mounted devices.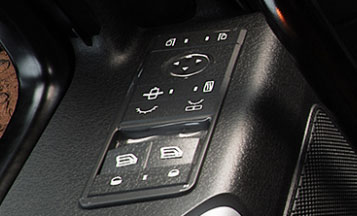 Controls
Remote mirror and window control switches are within easy reach, located on the door panels for convenience.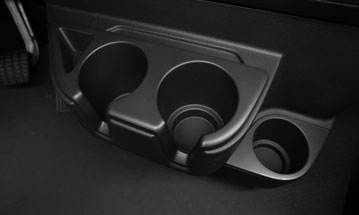 Cupholders
Three extra-large cupholders are within convenient reach of the operator and designed to hold even the largest beverages.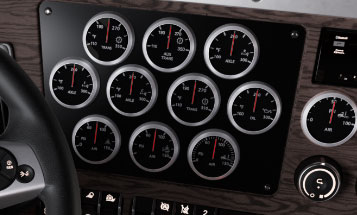 FlexPanel
Proprietary FlexPanel provides the space and flexibility for TEMs to easily integrate body controls, or for customers to mount tablet devices or add up to 24 switches or up to 10 gauges.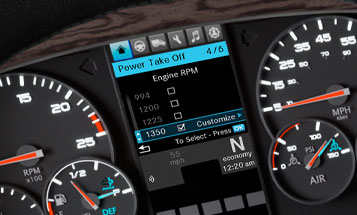 PTO Control Logic
When the PTO is engaged, you can view your engine speed presets in the Driver Command Center and, using the control buttons in the multi-function steering wheel, change engine speeds with the push of a button.
Best-In-Class
Specifications
The 49X has all the options you need to build the truck you want.
1. X-Series steel-reinforced aluminum cab with X-Series steel door
2. Trench-style low roof with lowered center section for optimal packaging of over cab equipment
3. One-piece roped-in windshield
4. Optional impact-resistant and heated windshields available
5. Optional single or high-visibility three-piece rear window
X-Series Base
Mordura cloth seat
Vinyl sleeper upholstery
Standard insulation
Standard LED cab lighting
Black finish steering wheel switches
Black finish dash gauge bezels
Carbon with black trim accents
X-Series Premium
Laredo leather seats
Upgraded sleeper upholstery
Premium insulation
Premium LED cab lighting
Bright finish steering wheel switches
Bright finish dash gauge bezels
Premium teak trim
1. Quarry Grey
2. Charcoal Black
3. Timber Brown (available on Premium Package only)
1. Impact-resistant, durable, lightweight molded resin hood with sloped high-visibility design
2. ISO TECH Hood Suspension System
3. Standard with locking hood strut
4. Optional Power Hood for high horsepower needs in set-forward axle configurations
Radiator-mounted steel grille with stainless steel surround
1. Best-in-class HVAC with 5 face outlets, 4 floor outlets, 2 side window defrost outlets and 10 blower speeds
2. Available only on sleepers, optional Idle-Free Dual HVAC that provides up to 10 hours of cooling or 34 hours of heating when parked
Engine mounted air intake, plus optional hood-mounted pre-cleaner deliver improved dust capacity
1. Detroit® DD15®, 400-505 HP, 1550-1850 lb-ft
2. Detroit® DD16®, 500-600 HP, 1850-2050 lb-ft
3. Cummins X12, 350-500 HP, 1450-1700 lb-ft
4. Cummins X15, 400-605 HP, 1450-2050 lb-ft
1. Detroit® DT12®-V and Detroit® DT12®-VX
2. Allison Automatic 4000, 4500, 4700
3. Eaton Fuller Manual 10- 13- 18-speed; 8LL and 9ALL
4. Eaton Endurant AMT 12- 18 speed
1. Intuitive and simple to use PTO control system that makes programming easy
2. FEPTO and REPTO available
3. Factory installed transmission PTO
1. Detroit® single 12,000-23,000 lbs
2. Detroit® tandem 36,000 and 40,000 lbs
3. Meritor single 12,000-22,000 lbs
1. Detroit® single 23,000 lbs
2. Detroit® tandem 40,000-44,000 lbs
3. Dana tandem 52,000-60,000 lbs
4. Meritor single 21,000-30,000 lbs
5. Meritor tandem 40,000-84,000 lbs
6. Meritor tridem 69,000-126,000 lbs
1. Flatleaf 14,600-23,000 lbs
2. Taperleaf 12,000-20,000 lbs
1. AirLiner® single 21,000-23,000 lbs
2. AirLiner® tandem 40,000-46,000 lbs
3. AirLiner® tridem 69,000 lbs
4. Chalmers tandem 40,000-70,000 lbs
5. Flatleaf single 23,000-30,000 lbs
6. Hendrickson tandem 40,000-52,000 lbs
7. Neway single 26,000 lbs
8. Neway tandem 46,000-52,000 lbs
9. Neway tridem 69,000-78,000 lbs
10. TufTrac tandem 40,000-52,000 lbs
1. WABCO® 4S/4M and 6S/6M Anti-lock Braking System (ABS) with and without traction enhancement
2. Air Disc Brakes
1. Detroit Assurance® suite of safety systems including: Active Brake Assist 5, Adaptive Cruise Control to 0 MPH, Side Guard Assist, Tailgate Warning, Lane Departure Warning, Automatic Headlights/Wipers and Intelligent High Beams, Brake Hold Mode, Traffic Sign Display and Active Speed Intervention, available with Detroit® engines
2. WABCO® OnGuard including collision mitigation and adaptive cruise control, optional with Cummins engines
1. Single-channel RBM @ 1.8-3.8MM inch-lbs
2. Inner C-channel reinforced RBM @ 4.4-5.5MM inch-lbs
3. 8"-30" parent rail front frame extensions options available
49X offers three bumper styles in various finishes and thicknesses, as well as a boxed-in bumper with an optional grille guard for logging applications. All 49X bumpers are tapered at the wheel ends for ground clearance and weight savings
Standard 1/8" stainless steel vocational
Optional 3/16" painted steel
Optional 1/4" plain or polished aluminum
Optional 5/16" bright steel severe service
Optional 3/8" painted steel severe service
Optional 1/4" painted or bright steel logger
There are a number of towing device options mounted directly to the front frame head for increased strength and durability, with ratings from 80,000-140,000 lbs
Dual Removable Tow Hoops, 80,000 lbs
Center Tow Pin, 80,000 lbs
High Capacity Center Tow Pin, 140,000 lbs
1. Aluminum 25" cylindrical, plain or polished
2. LH 60-150 gallon (227-568 liter)
3. RH 60-, 70-, 80-, 100-, 120-, 150-gallon (227-, 265-, 303-, 379-, 454-, 569-liter)
4. Standard forward mounting; optional aft mounting
5. LH and RH split fuel/hydraulic tank options available
6. LH and/or RH auxiliary fuel supply and return ports available
1. 8-, 13- and 23-gallon (23-, 49- and 87-liter)
2. Standard forward mounting
3. Optional LH or RH aft mounting
All-new QuickFit Interface System
1. Easier to integrate truck equipment with the vehicle's electrical power and communication sources
2. Advanced multiplexed electrical system for easy Truck Equipment Manufacturer (TEM) interface, programming and power access
3. Auxiliary in-cab backwall mounted E-Vault available, which houses:
QuickFit Programmable Modules
QuickFit Programmable Interface Connector
TEM-specific power distribution module
High-current power access
Resources
Access the latest 49X product information, videos and images.