Beyond the Star
LC HAULING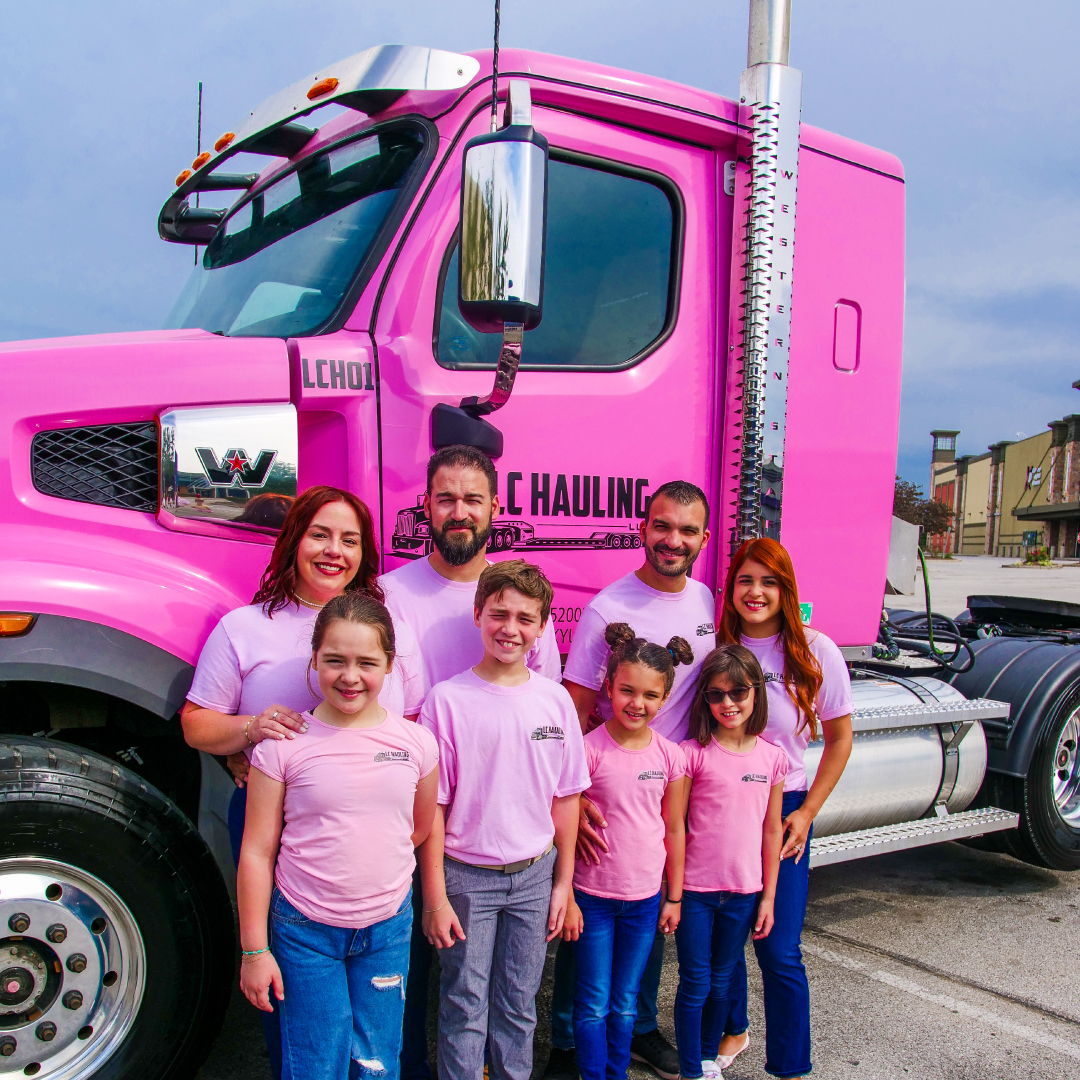 Powerful in Pink: How LC Hauling Is Bringing Hope to Trucking
Jose and Sergio Feria, brothers who emigrated from Cuba to the United States at the ages of 18 and 19 in 2005, married two women named Megan and Ana. Founded in 2020 by the Feria wives, LC (Louisville Construction) Hauling, a Louisville-based and women-owned heavy equipment transport company, broke its way into trucking with a novice background in the industry. In the midst of a global pandemic, with the unwavering support of their husbands, Megan and Ana seized the gap they saw in heavy equipment hauling.
Living and Breathing the #NeverBackDown Attitude Since Day One
Jose and Sergio Feria's father was a remarkable shoemaker in Cuba. The profits their father made from selling his handmade shoes, while helpful, were barely enough to support a four-person household. An aunt who lived in the Dominican Republic encouraged the Feria family to move to her country which allowed for a fresh start and new opportunities.
Determined to create better lives for themselves, Jose and Sergio made the decision to attend college while living in the Dominican Republic, where they studied business administration and civil engineering.
College opened doors for the Feria brothers. Jose landed a job at a well-known bank while Sergio was employed at an engineering firm. Although busy with their own endeavors, the brothers always made time to help their father with his diesel distribution company. With the instability of electricity in the Dominican, the Feria men worked to distribute diesel for generators and private plants.
While their situation in the Dominican was far better than what they experienced in Cuba, the Feria brothers were eager to experience something new. At the ages of 18 and 19, Jose and Sergio were ready to embark on the "American Dream." Upon immigrating to the United States in 2005, it wasn't easy for the Feria brothers. They took any job they could find, working in factories, detailing cars and delivering newspapers. Eventually, Sergio found himself working for a home builder in Louisville and became so interested in construction that he later started his own floor installation company.
The booming success of Sergio's flooring company was becoming too much to handle on his own: that's where Jose came in to help. Driven with passion, the Feria brothers wanted to branch out. Hoping to venture into new areas, they started bidding for maintenance and construction projects with Louisville MSD, and thus, Louisville Construction was born in 2011.
Amidst the early years of Louisville Construction, the brothers expanded the Feria family with their marriages to Megan and Ana. The Feria wives quickly jumped in to assist with the construction business, truly making Louisville Construction a family-owned company.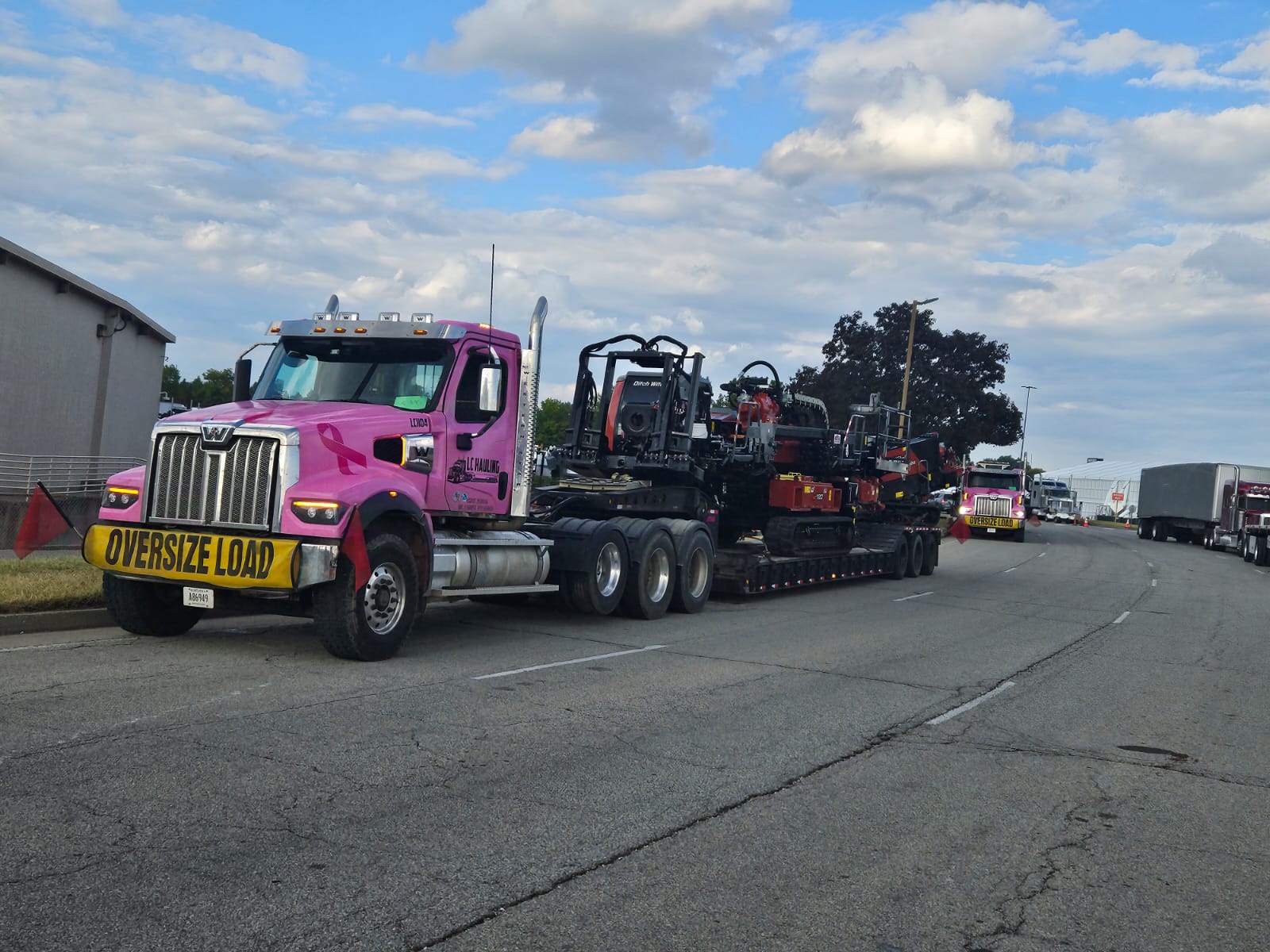 How LC Hauling Emerged from an Excavator Delivery Need
When Louisville Construction found themselves in need of an excavator, they naturally turned to their equipment dealer Boyd CAT.
Unfortunately, this happened in 2020, and Boyd CAT, like many others, faced challenges such as delays and backorders due to circumstances beyond their control.
The Ferias were left with limited options, as they required a truck with enough power to haul a substantial load—a 54,000-pound trailer and a 110,000-pound excavator. This, however, wasn't an option; they had work to get done. Boyd CAT, half-jokingly, suggested that if they also were to buy one of their brand-new Western Star trucks, then they could drive the excavator off the lot on the spot.
This unexpected turn of events led the Ferias to reevaluate their plans and recognize a gap in the heavy-haul market in their area. Although they possessed a novice background in the trucking industry, their determination to fill the void in local heavy equipment hauling drove them forward. Louisville Construction seized this opportunity and diversified their business. Not only did their new ventures allow them to serve the needs of the local community, but they were also able to begin leveraging their knowledge in logistics and project management.
That's how everything started, and LC Hauling was born from Louisville Construction, according to Ana, who called it their "pandemic baby."
"We saw the necessity and then the opportunity," she continued. "That's why we partnered out with Boyd CAT and that's how we got ourselves into the world of heavy hauling."
One Detail About LC Hauling You Can't Miss: Pink Trucks.
Back in 2019, Ana, wife of Sergio Feria, felt numerous lumps in her breasts. In light of the fact that, Sergio's grandmother and Ana's aunt died of breast cancer, this news hit close to home. Urged to get a mammogram right away by her doctor, Ana nervously got an exam and awaited the results.
Because this took place during the pandemic, no guests were allowed to go into appointments with patients. "No one could go with me to get my mammogram or ultrasound. You see very sick people there. You see people getting their diagnosis that day. People are crying. You just want to hug somebody, but you can't. It was a very tough year for me. So, I told the guys that we needed to help with awareness; we needed to help where we could," said Ana.
Fortunately, Ana was blessed with a non-terminal situation, as the lumps on her breasts were actually benign cysts.
 "Our original intention was to only wrap one truck and, right away, our drivers were not happy with this color," said Ana. After posting about the pink truck on Facebook, LC Hauling's page blew up. One woman in particular, Debbie Wall, responded to the pink truck saying,
"I'm a survivor of breast cancer and when I saw your pink truck, I felt there really is hope. There's hope for hauling, there's hope for research, there's hope for a cure."
- Debbie Wall
Debbie Wall is an avid contributor to the fight against breast cancer and works for an organization called Twisted Pink that supports women facing stage IV breast cancer. Once a year, this organization puts on a gala for terminally ill women fighting breast cancer, pampering them and providing wigs to help them feel glamorous in a non-glamorous situation. In partnership, LC Hauling volunteers time, services and expenses to make this gala come to life. In partnership, LC Hauling volunteers time, services, and expenses to make this gala come to life, while also collaborating with Twisted Pink to create and send comfort boxes to each of these women and their families.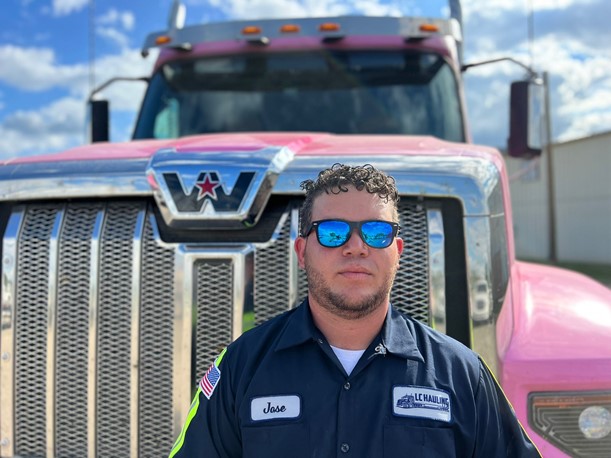 Ana said, "We try to make them feel special and included. Although these women are very sick, we want them to have some comfort in knowing that people care about them. Our drivers and their families volunteer their time to help pack comfort boxes for these women. Ultimately, we want them to feel supported."
After the overwhelming amount of positive feedback from their initial pink truck, the phrase "Hope for Hauling" stuck with the Feria family. When they realized how much the pink truck meant to so many people, the four Ferias made the decision to wrap all current and future LC Hauling trucks in pink, proudly displaying the slogan "Hope for Hauling" front and center on each one.
Not only are the drivers now fully on board with the color pink, but they are fully on board with the all-new Western Star X-Series too.
Never backing down after their first Western Star truck, LC Hauling now has nine 49X trucks and three 4700s. With six 49X trucks on order, the Feria family is aiming to have 20 trucks in their operation by 2024.
Sergio said his drivers feel like a driver designed these trucks, almost as if Western Star called a driver and said, "Come here and tell us everything you don't like about a truck and we're going to fix it. We're going to make a brand new one for you."
When it comes to Western Star trucks getting the job done, LC Hauling drivers appreciate more than just luxurious comfort and amenities; they also value the exceptional power.
LC Hauling handles exceptionally heavy loads, with the biggest being a massive 164,000-pound excavator. On average, the team handles around 110,000 pounds daily, requiring heavy haul trucks that not only meet but also surpass performance expectations. When explaining what LC Hauling loves about Western Star's durable transmissions, Jose said, "All of our trucks have DD16 engines and DT12V transmissions. The powertrain is fantastic; the way it feels, the way it handles the truck. It's one of the key features that we like. We are heavy haulers, we move heavy equipment, and this transmission allows us to get the job done, day in and day out without any problem."
As the only local Louisville company who can move heavy equipment, LC Hauling gives all the credit to Western Star and the 49X. "It has been a great partnership working together, growing together, helping the community together. Western Star has really helped us get to where we are today," said Sergio.
Powerful and pink: two defining words for LC Hauling. Taking after the hard work and determination of their immigrant father, one pink truck at a time, the Feria brothers and their wives are making a difference in both the local community in Louisville and the larger trucking industry. Continuing to donate time and money to the breast cancer cause, this influential, family-owned company is not backing down any time soon. Jose put it best, "No job is too big. We always figure it out for our customers."