Beyond the Star
JESTER LOGGING: FOUR GENERATIONS DEEP AND A LOVE FOR WESTERN STAR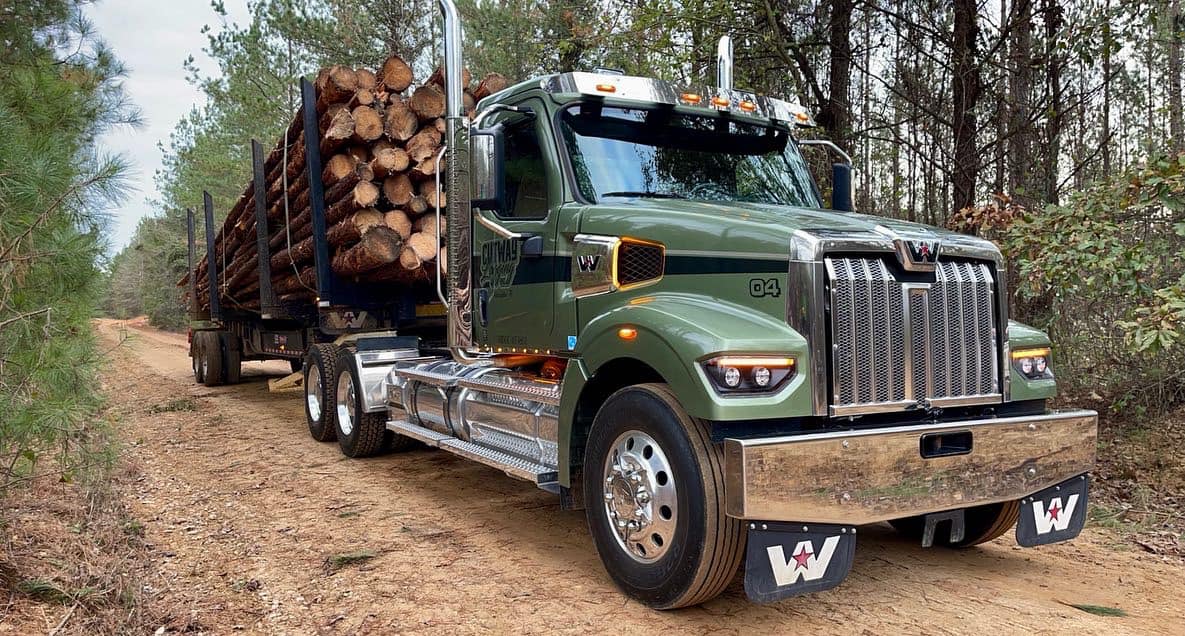 Kevin Jester's grandfather, Clarence, was farming on the banks of the Terre Noire Creek in Clark County, Arkansas, when the creek flooded in 1949, destroying his entire crop. Seeking greater control of his economic destiny, he gave up the farming life and went out and bought a short-wood truck and went deep into the log woods, cutting and hauling billets. Little did Clarence know, he was laying the groundwork for a family business that is still going strong, 74 years later.
Kevin, third generation, and his son Cutter, fourth generation, are currently running the family business. When reflecting on what has made their business stronger over the years, they are quick to give some credit to Western Star.
"We bounced around a bit and had a smorgasbord of different trucks. It was really my son Cutter who got us hooked up solidly with Western Star," says Kevin.
Cutter adds, "It's easier to maintain equipment when you're only running one brand. We looked at a few different trucks and just based off the looks of the truck, the performance and everything else, well, we just felt like Western Star was the brand that we wanted to build our company around."
Kevin's grandfather had a saying that has stuck with him over the years; "You don't make a dime until that load crosses the scales. We can work from daylight to dark in the woods. And we can have mountains of wood, but nobody gives us a dime until that truck crosses the scales with a load.
So, we have to have something that works every single day, day in and day out. And that's what Western Star does for us.
- Clarence Jester
Our trucks are obviously a critical component for what we do. We're a small fleet as fleets go; we don't have two or three extra trucks parked that we can use when we need to service one out for whatever reason."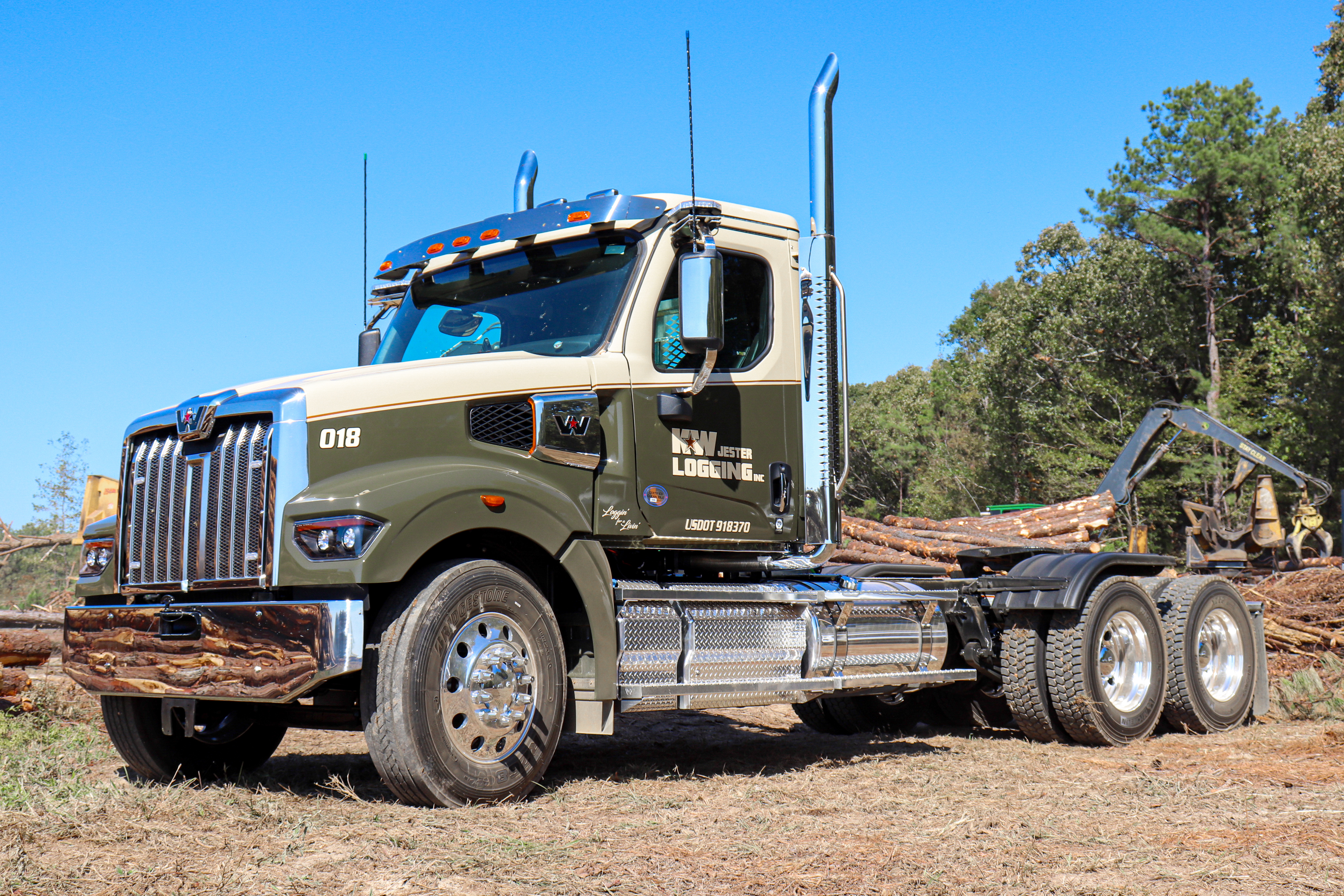 Cutter (a great name for a fourth-generation logger) and Kevin added the new Western Star X-Series to their fleet and have both spent time behind the wheel. When asked what they like best about the new commercial trucks, the answers came quick.
"I've always wondered why it is that I have a better seat in my pickup than my drivers had in their work trucks. Why did it take us so long? He sits in that thing 14 hours a day. Our salesman wanted to know, 'Hey, what's the biggest truck driver you've got?' Well, I said 'We've got a driver here who is 6' 7" and well over 300 pounds.' The way the steering column worked, the flexibility you had with the travel of the seat, the way you could adjust the pedals, everything was able to move in a way that made a guy that big comfortable. And that's great."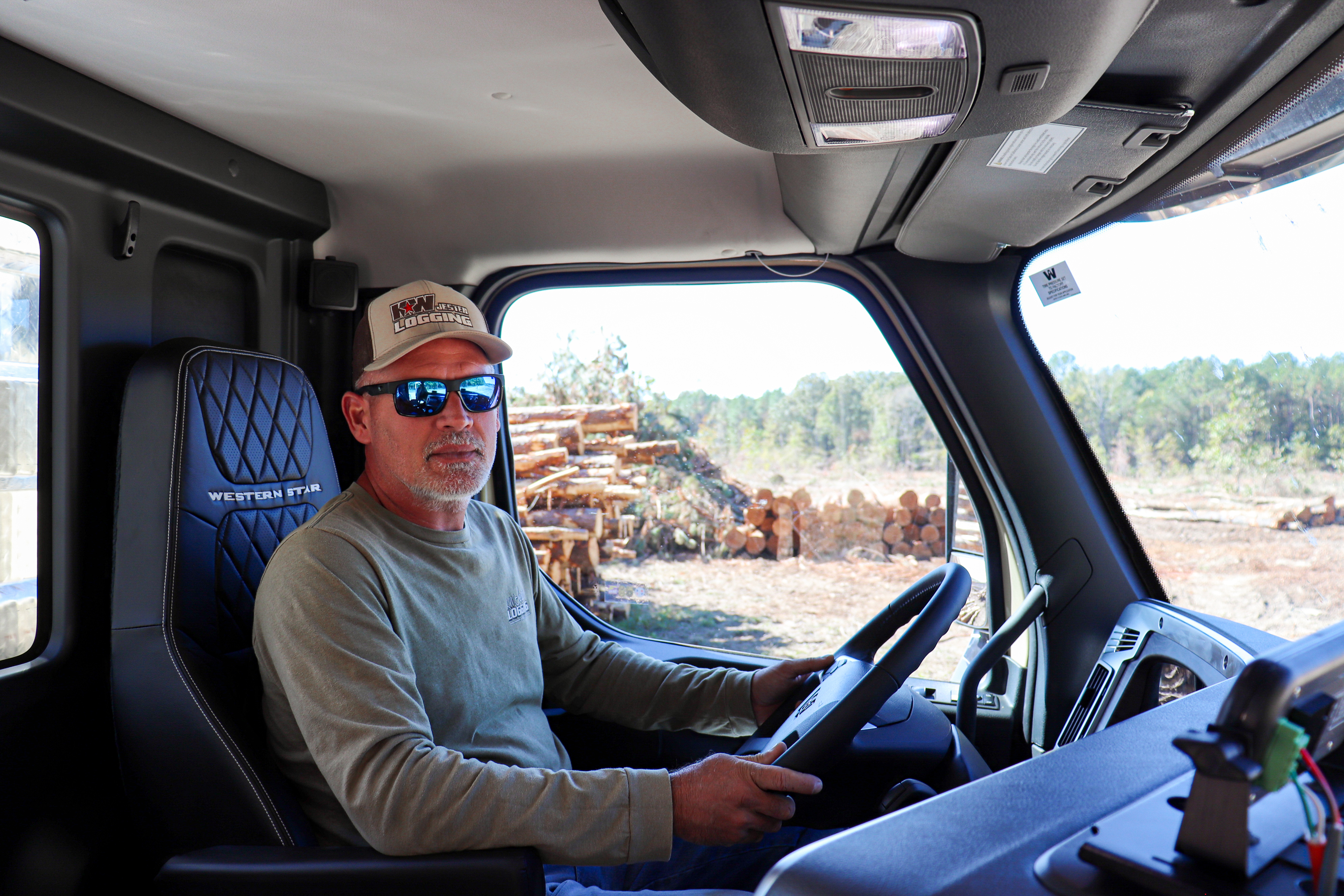 Kevin also added, "When they were designing the X-Series, they came to us. And when I say they came to us, I mean Peter Arrigoni (Vice President of Vocational Sales at Daimler Truck North America) came to our jobsite and spent an entire day with us wanting to know how they could make the truck better. And I feel like they took the things we said and then put them into these trucks. It's pretty cool to know that that guy came all the way from Oregon down to Southwest Arkansas to find out what do we need in a log truck."
The new Western Star X-Series was designed from the ground up with direct customer input and hands-on experience from the vocational industry. When asked about what key features Jester Logging felt were tied to the input they provided during the product development phase, they were not short of examples to call out.
For Kevin, the extra visibility that the new X-Series provides hits the mark for him, "I'm putting trust in our guys to take care of these trucks and pay attention to what they're doing. And to gain the visibility out of the driver's seat that we have in the X-Series has been a tremendous plus for our operation. Our guys do a lot of starting and stopping; they're making big, hard, tight turns in rugged conditions. To be able to turn your head and get almost 180 degrees of clear vision really made a big difference."
The shorter hood stands out to Cutter as an improvement, "I know the shorter hood has been a hurdle to get over for a lot of drivers. In our world, everybody likes a big hood and chrome stacks. I put my oldest driver in the first X-Series I bought; he's 71 years old, and he is as old school as they come, and I thought this is gonna be the test. Well, this truck had automatic transmission, a short hood and a super-comfortable seat. And he absolutely raves about this truck. He says he doesn't want to drive anything else."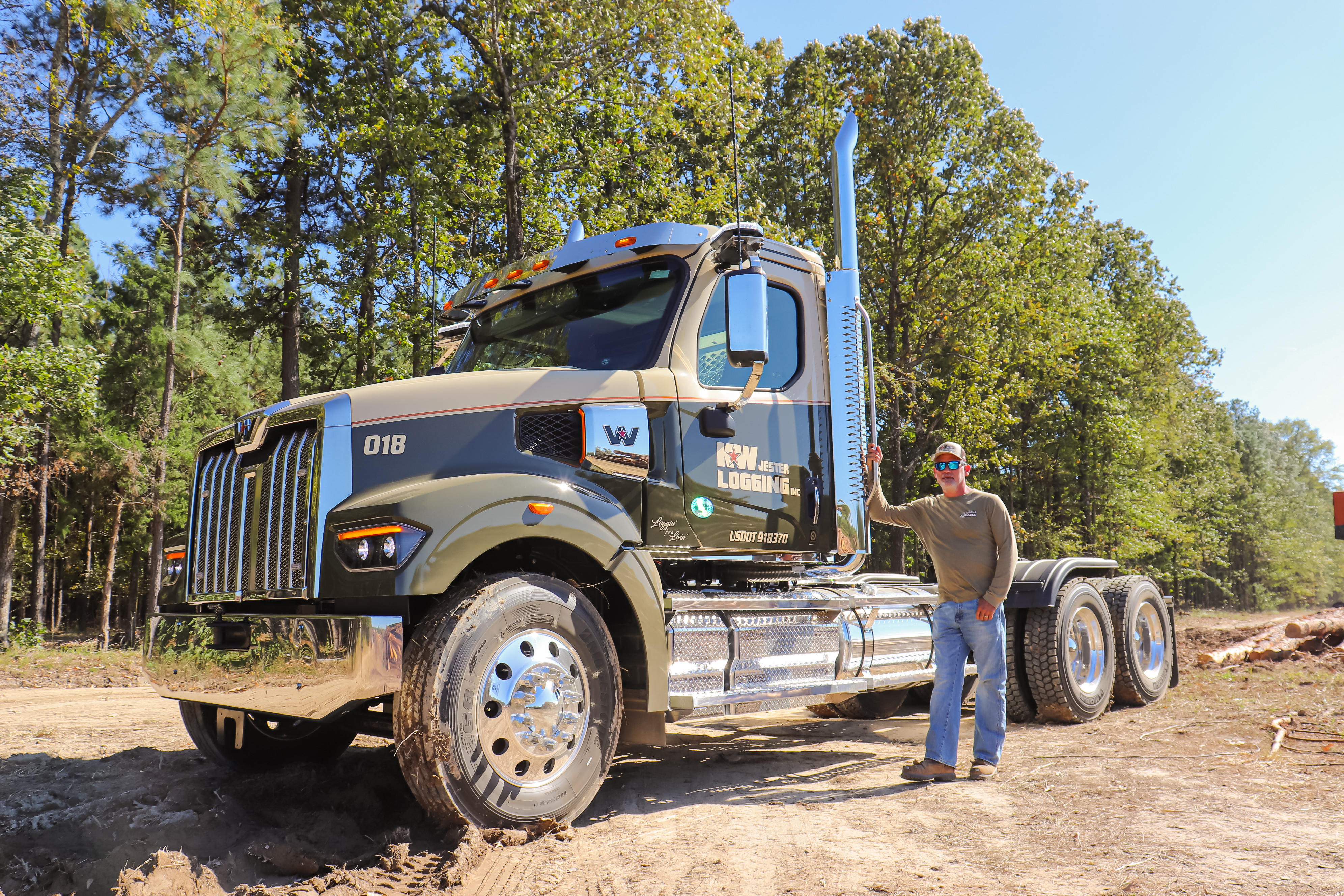 Western Star isn't just about the trucks; it is also about the people that relate to everything the brand stands for. It's a way of life.
- Cutter Jester
Kevin and Cutter reflected on their different paths that led them to where they are today in keeping the family business going.
One could say the Jester family members were all born with some diesel in them. Kevin's dad dropped out of high school in 11th grade, went to a diesel mechanic school and went into business with Kevin's grandfather. Kevin relates,"All of my memories and experiences with my dad are work related, and my very earliest memory is when I was about nine years old, we were coming out of the woods and I'm sitting in the passenger seat, and I've got my hand on the gearshift. And he's got his hand on top of mine and he's teaching me how to shift gears until the point that he could finally take his hand off. And as he would double-clutch the transmission, I would bring it down from one gear and into another. I can see that image in my mind right now."
Not surprisingly, Cutter has a similar memory:
"I don't know if I ever necessarily got to the point to where I was shifting it on my own. But I can remember riding in the passenger seat of his truck with my hand on the gearshift while he worked the pedals. These traditions don't die."
That's right, they don't, and working with one's father in the forest at such a young age is every kid's dream.
"I've been in the log woods since I was able to walk," says Kevin. "I remember loading my very first log truck. These loaders had a battery box right outside the door and I would sit on the battery box while my dad was loading, and I watched him moving the levers with his hands and the pedals with his feet. You just sit there and watch and figure it out. And I spent many hours sitting there watching him or my grandfather do just that."
"One day he was loading his truck," Kevin continues, "and a forester came out and needed to talk to him. And so, he hopped down off the loader and when he got down on the ground, he looked back up at me, and he said, 'Finish loading.' I think I was sweating bullets. I had never done this and, and I finished loading that truck and you know, that's one of my proudest memories. He would pay me $60 a day and I thought I was the richest 15-year-old in the state."
"My experience was a little different," says Cutter. "I enjoyed being in the woods, for sure, but it wasn't ever something that I was interested in. I was a big baseball player growing up. I mean, ever since I could walk, so I kind of bet my life on baseball. When I was young, plan A was to be a professional baseball player. My plan B? That was also to be a professional baseball player. Like I said, I don't think I ever really understood what exactly it was that he did. So, I never had much of an interest in it. It really wasn't until I was in college that baseball got taken away from me pretty abruptly. And because of that, I decided to drop out of college, and that's kind of how my journey into the log woods got started."
And Kevin couldn't be prouder. "It's been really neat watching him buy in to this company because I never really expected that this was what he was going to do. I pushed him pretty hard to go to college and thought he would probably do something different, but it's been pretty fulfilling to see him come to a place where he's completely bought in now."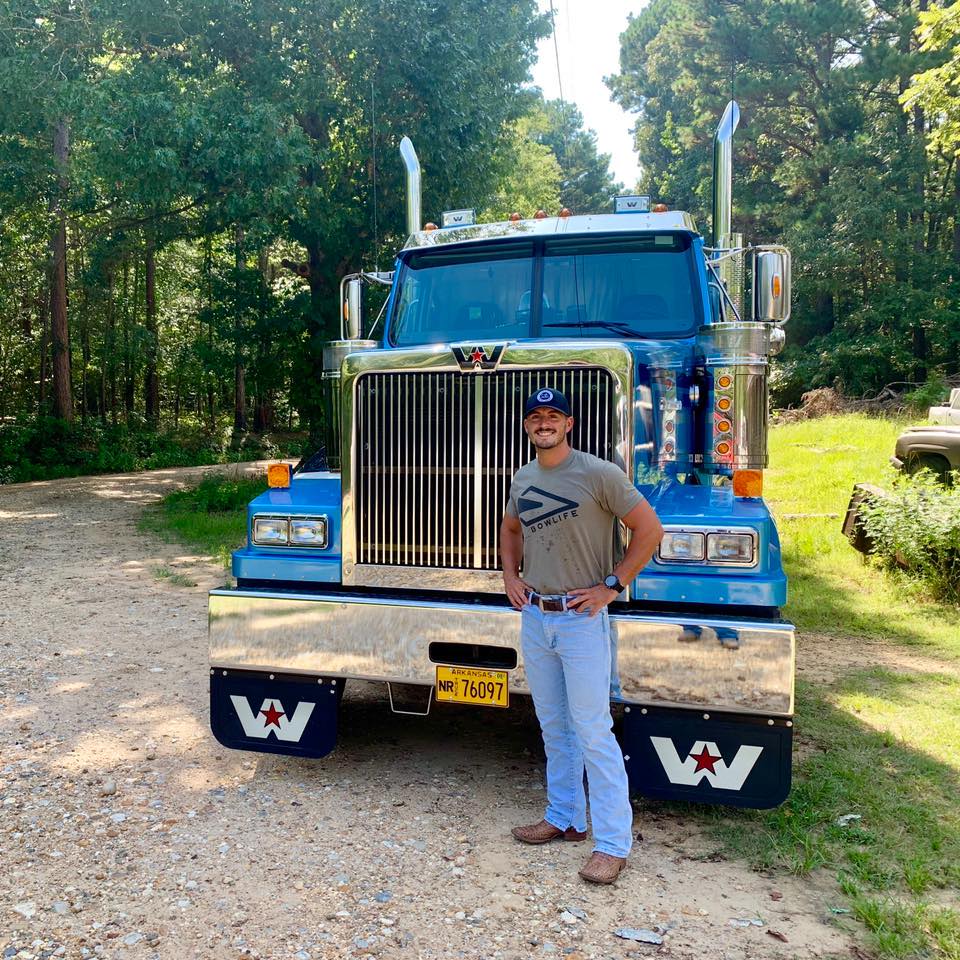 Even though I've tried my hardest to stay away from it, I look up now and I'm neck deep in it and couldn't get out even if I wanted to. Logging is not what we do; it is who we are.
- Cutter Jester
I don't know if I've ever told him this before, but there is a respect I have for him and for his business, for the work ethic that he has and for what he went through to give my brother and sisters the childhood and the life that we have been blessed to have."
Kevin adds, "When I was in college, I also wouldn't have told you that this was what I was going to do. I went to school, got a degree in agriculture business. I was never running away from this company; I just thought I might do something different. But it's something that gets bred into you. You don't get into this business accidentally. Nobody becomes a logger by accident. You get into this because it's part of your identity. Our company has its own motto, "Logging for a living," and that's what we're doing. We're logging to make a living for our families and for all the families that are a part of this. We are all one big family. And we really, truly feel that way. It's part of our identity."
Along with logging being part of their identity, so is Western Star. "A Star tends to be the truck that a guy gets stuck on, you know, like once you've committed to that truck, it's like there's no turning back," Kevin states.
When asked if they have seen an increase of the new Western Star X-Series trucks working in their industry, the answer came quickly: "Absolutely! They've combined that toughness with what today's drivers want. And they want comfort. They're in that thing 14 hours a day; they deserve comfort. And to me Western Star combined those two things and that is becoming well known in our neck of the woods and our drivers are leading the charge on that."